Development story
The Fukui Prefectural Agricultural Experiment Station, which originally developed "Koshihikari", has released more than 40 varieties, including "Hanaechizen", "Ikuhikari", and "Akisakari", following the birth of "Koshihikari". In May 2011, "Post-Koshihikari Development Department" was newly established with the aim of developing a new variety that surpasses "Koshihikari". This reflected growing concerns over the nationwide decline of rice crop quality due to increasingly higher temperatures in recent summers. The development project took off. Its goal was to create a new wet-rice variety that surpasses 'Koshihikari'.
Under three clear breeding policies listed below, the "Fukui's new brand rice" project was launched.
A "flavorful" variety that fits with consumer preferences
A variety that bears grains beautifully even in the midst of hot summer, brings out delicious tastes, and does not fall over easily.
An "environmentally friendly" variety that is disease-resistant, can grow stably with organic fertilizers, uses less pesticides and chemical fertilizers, and has the least possible impact on the nature of hometown Fukui.
Test planting of seeds from 200,000 varieties, followed by manual screening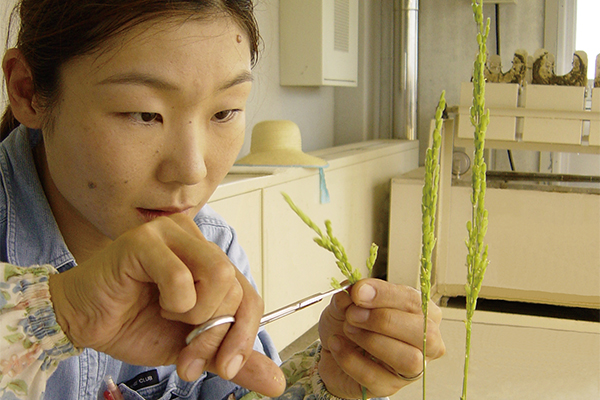 First, the Fukui Prefectural Agricultural Experiment Station, which had released "Koshihikari" in 2011, selected 200,000 candidate varieties for "Fukui's new brand rice", capitalizing on its over-60-year experiences in wet-rice cultivation and cross-breeding. Each of candidate varieties was planted individually in the rice field. Such parameters as plant's height, timing of the rice ear budding, disease resistance, yield are carefully examined. The works were conducted in the rice field all day long under the heat of mid-summer, so straw hats and drinks are necessities. Harvesting was done by hand, one by one, and plants were dried applying a traditional way of Hasagake (drying rice ears on a rack). After that, the staff manually removed grains (un-hulled) from the ears of the plants, checked the appearance of each grain of brown rice, and screened 12,000 varieties that looked better than" Koshihikari".
Taking advantage of advanced technologies built up since the development of Koshihikari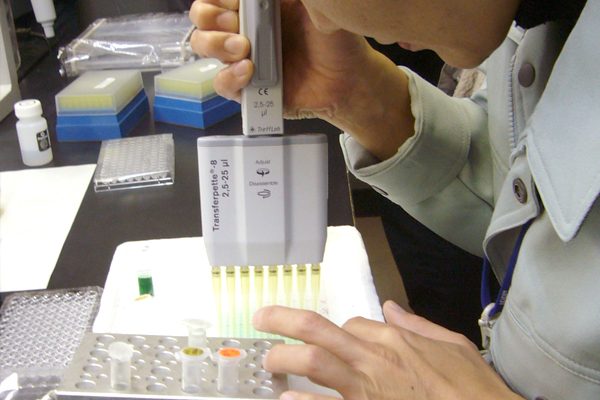 While on-field screening was done manually, the project also worked on the screening using "DNA markers", which enabled identification of varieties' genetic characteristics. It was the very first attempt carried out in Japan through the joint research with the Next Generation Crop Development Research Center. Such complex genetic characters as endurance to high temperatures, high quality, and delicious tastes became able to be accurately and simultaneously identified, thus even more efficient screening for ultimate "Fukui's new brand rice" became possible.
Relentless focus on taste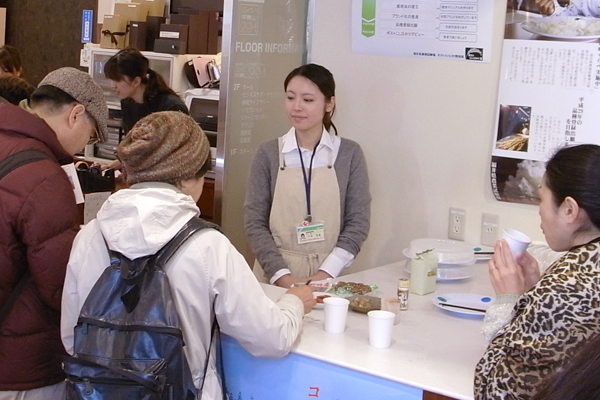 In order to incorporate consumers' preferences on "deliciousness" into the development efforts, the project conducted rice "tasting surveys" among consumers and professional chefs mainly in urban areas of Japan, and analyzed survey findings. The researchers, who rarely had opportunities to interact with people in public, did cook and serve rice on site and solicited opinions from some 1500 people in bustling areas like Aoyama Tokyo, Nihonbashi Mitsukoshi Department store. From the survey results, they found out that "sweet, chewy with smooth texture" is most preferred.
In pursuit of this taste character, the project set up a special research team in the Station. The team staff tasted and compared different types of rice, as many as 50 kinds a day, that is, 10 kinds every two hours or five time a day. Interestingly, they found out, with so much tasting, their teeth became silky smooth. They worked on measurements about hardness and stickiness of individual grains, as well as structure analysis of rice starch composition. Thus, they obtained the scientific evidence that defined the characteristics of a special rice variety that surpasses "Koshihikari" in taste.
Along with people in Fukui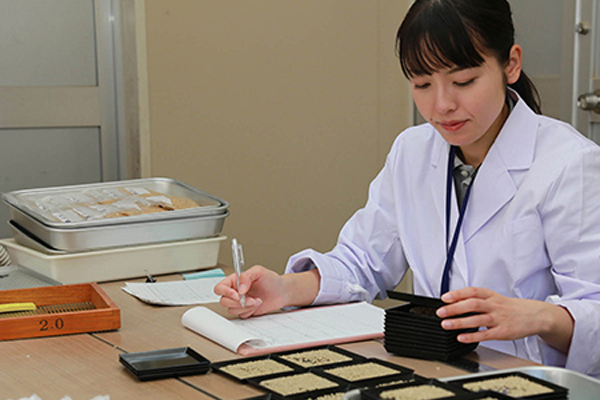 Starting 2015, we recruited farmers who conducted cultivation tests in various parts of the prefecture, and the results were incorporated to further the selection process. In 2016, in efforts to get people in Fukui feel involved in and proud of "Fukui's new brand rice", taste evaluation by residents was conducted, and comments from experts were collected as well. Finally, taking all of these into consideration, the prefecture government decided the eventual winner out of four finalist varieties. That is the "Ichihomare", wet-rice variety, "Fukui's new brand rice" (Etsunan 291)". "Ichihomare" was born on December 2, 2016, through rallying supports from farmers, consumers, and agricultural organizations.
Becoming the most sensational rice variety in the history, even before its official debut
We publicly solicited naming ideas for then Etsunan 291, from December 20th, 2016, to January 31st, 2017. Surprisingly, we received over 100,000 entries from all over Japan. This by far exceeded our initial expectation, making this variety the most popular one in the history of rice, even prior to its full-scale debut in 2018.